Getting the right inspirational volleyball quotes to motivate your teammates can be difficult to find, that is why we have taken the time to compile a list of quotes just for you.
Coaches and players alike need to realize that feeding the mind is equally as important as the training done. When the psychology of a team is in a bad shape, such a team is likely to face defeat most often than not. However, if you are looking to boost the morale and ultimately the performance of your team, here are 100 Inspirational Volleyball Quotes To Motivate Your Teammates.
Volleyball Quotes
1. "Don't measure yourself by what you have accomplished, but by what you should have accomplished with your ability." John Wooden.
2. "Be bold. If you are going to make an error, make a doozy, and don't be afraid to hit the ball." Billie Jean King.
3. "The Six W's: Work will win when wishing won't." Todd Blackledge.
4. "Face your deficiencies and acknowledge them. But do not let them master you." Hellen Keller.
5. "Champions never complain, they are too busy getting better." Uknown.
6. "Keep away from those who try to belittle your ambitions. Small people do that, but the really great make you believe that you too can become great." Mark Twain.
7. "To succeed, you need something to hold on to, something to motivate you, something to inspire you." Tony Dorset.
8. "If you want a soft serve, try ice cream." Uknown.
9. "It isn't hard to be good from time to time in sports. What is tough, is being good every day" Willie Mays.
10. "One man can be a crucial ingredient on a team, but one man cannot make a team." Kareem Abdul-Jabbar.
11."Sometimes it's not how good you are, but how bad you want it." Camari Lewandowsky.
12. "When you lose a couple of times, it makes you realize how difficult it is to win." Steffi Graf.
13. "If you sacrifice early, you'll win late." Charles Haley.
14. "A hard practice makes an easy game." Uknown.
15. "I've missed more than 3000 shots in my career, lost more than 300 games. 26 times, I've been trusted to take the game winning shot and missed. I have failed over and over and over again. And that's why I succeed." Micheal Jordan.
16. "Pass…Set…CRUSH!" Unknown.
17. "It's lack of faith that makes people afraid of meeting challenges, and I believed in myself." Muhammad Ali.
18. "The sterner the discipline, the greater the devotion." Pete Carill.
19. "Set your goals high, and don't stop till you get there." Bo Jackson.
20. "It ain't over 'til it's over" Yogi Berra.
Really Good Volleyball Quotes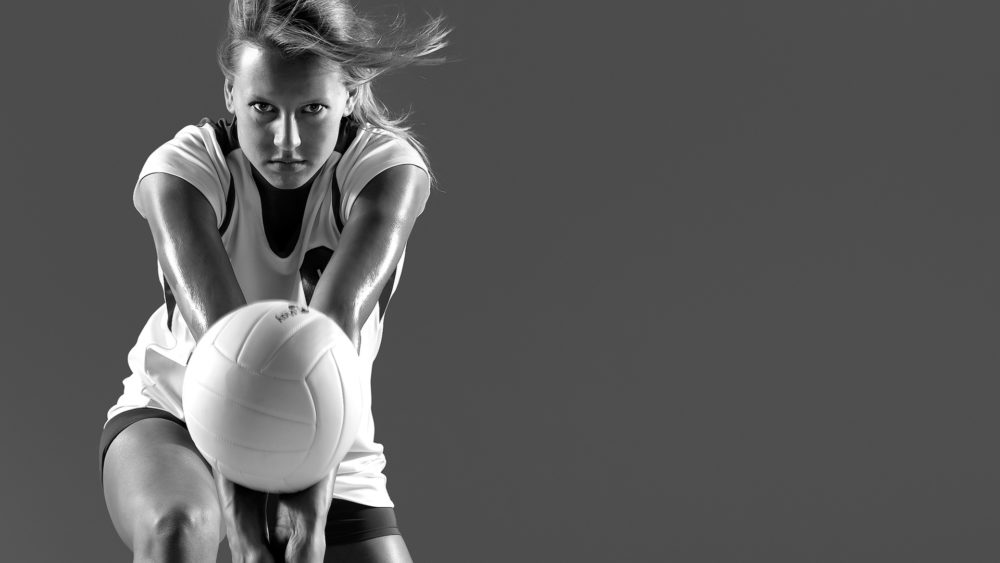 21. "Trade weakness for power trade doubt for confidence trade fear for courage trade volleyball for nothing." Unknown.
22. "The difference between the impossible and the possible lies in a man's determination." Tommy Lasorda.
23. "If you care at all, you will get some results. If you care enough, you will get incredible results." Jim Rohn.
See Also: Inspirational Softball Quotes To Motivate Your Team
24. "Opportunities multiply as they are seized." Sun Tzu.
25. My wife…boyfriend…husband…girlfriend OR volleyball? — When do we play? Unknown.
26. "My boyfriend told me I had to choose between him and volleyball….big mistake…I'm really gonna miss him."
Jean-Claude Killy.
27. "When I jump up you are going down." Unknown.
28. " Anyone serious about playing indoor, you should play outdoor."
Sean Scott.
29. "You have to expect things of yourself before you can do them." Michael Jordan.
30. "The winners in life think in terms of I can, I will, and I am. Losers, on the other hand, concentrate their waking thoughts on what they should have done, would have done, and what they can't do." Dennis Waitley.
31. "Anyone can support a team that is winning – it takes no courage. But to stand behind a team to defend a team when it is down and really needs you, that takes a lot of courage." Bart Starr.
32. "The best and fastest way to learn a sport is to watch and imitate a champion." Unknown.
33. "They call it coaching but it is teaching. You do not just tell them… you show them the reasons." "Having the capacity to lead is not enough. The leader must be willing to use it." Vince Lombardi.
34. "You have to perform consistently at a higher level than others. That's the mark of a true professional." Joe Paterno.
35. "There are no elevators in the house of success." H. H. Vreeland.
See also: 80 Best Egyptian Names And What They Really Mean
36. "The person who gets the farthest is generally the one who is willing to do and dare. The sure-thing boat never gets far from shore." Dale Carnegie.
37. "Sometimes it's not how good you are, but how bad you want it." Unknown.
38. "Champions keep playing till they get it right." Billie Jean King.
39. "Once you've learned to quit, it becomes a habit." Vince Lombardi.
40. "Unless you are willing to go, fail miserably, and have another go, success won't happen." Philip Adams.
Great Volleyball Quotes For Boys

41. "The difference between a successful person and others is not a lack of strength, not a lack of knowledge, but rather a lack of will." Vincent T. Lombardi.
See Also: Greatest Quotes About Being Happy – Happiness Quotes
Optimistic Quotes To Keep You Going
42. "You learn you can do your best even when it's hard, even when you're tired and maybe hurting a little bit. It feels good to show some courage." Joe Namath.
43. "My responsibility is leadership, and the minute I get negative, that is going to have an influence on my team." Don Shula.
44. "Every game is an opportunity to measure yourself against your own potential." Bud Wilkinson.
45. "Pain is temporary, Pride is forever." Unknown.
46. "It doesn't matter if you lose, it matters if you don't try." Unknown.
47. "It's what you learn after you know it all that counts." John Wooden.
48. Volleyball rules are simple. If it is on the floor, pick it up and get it into the air. If it is in the air, keep it off the floor." John Kessel.
49. "Be so good they can't ignore you." Steve Martin.
50. "I've always believed that if you put in the work, the results will come. I don't do things half-heartedly. Because I know if I do, then I can expect half-hearted results." Michael Jordan.


51. "Adversity cause some men to break; others to break records." William A. Ward.
52. "To be prepared is half the victory." Miguel Cervantes.
53. "Shoot for the moon, even if you miss you'll land on the stars."
54. "All I want out of life is that when I walk down the street folks will say, "There goes the greatest hitter that ever lived." Ted Williams.
55. I don't need the glory. I don't need fame. I don't need the spotlight. I just need the ball." Unknown.
56. "Blocking=rejecting the ball so hard it knocks grandma off the bleachers." Unknown.
57. I learned that if you want to make it bad enough, no matter how bad it is, you can make it." Gale Sayers.
58. "The quality of a person's life is in direct proportion to their commitment to excellence, regardless of their chosen profession." unknown.
59. "The will to win is more important than the skill to win. It is possible to achieve only what you actively pursue. Cogito, ergo sum. I think, therefore I am. Keep your head high and work hard every day, because you'll never get that day back.' Lloy Ball.
60. "It's supposed to be hard. If it wasn't hard, everyone would do it. The hard is what makes it great." Tom Hanks.
Volleyball Quotes For Girls
61. "It takes a lot of hard work and dedication just like any pro sport. Especially for beach volleyball, you don't have to be tall or as fast as other sports. You just have to have the skills."Misty May.
See Also:150 Perseverance Quotes About Not Giving Up
300+ Life Quotes: 200 Inspirational Quotes about Life
62. "I've worked too hard and too long to let anything stand in the way of my goals. I will not let my teammates down and I will not let myself down." Mia Hamm.
63. "No matter how far life pushes you down, no matter how much you hurt, you can always bounce back." Sheryl Swoopes.
64. "Everyone talks about age, but it's not about age. It's about work ethic. Winning never gets old." Lisa Leslie.
65. "Never let your head hang down. Never give up and sit down and grieve. Find another way." Satchel Paige.
66. "Man, that girl would look great with a bloody nose and a black eye." Unknown.
67. "Winning is not a sometime thing; it's an all-time thing. You don't win once in a while, you don't do things right once in a while—you do them right all the time. Winning is a habit. Unfortunately, so is losing." Vince Lombardi.
68. "You wish you could hit like a girl!!!!!!" Unknown.
69. "Volleyball anchored me at a time in my life when I needed it. It gave me a reason for being this big, big girl." Gabrielle Reece.
70. "Volleyball, invented by men, perfected by women." Unknown.
71. "One finger cannot lift a pebble." Hopi Saying.
72. "Sometimes it is more important to discover what one cannot do than what one can do." Lin Yutang.
73. "A lot of people had doubts. I tried to tell people I never had doubts." Misty May.
74. "Take your victories whatever they may be, cherish them, use the, but don't settle for them." Mia Haam.
75. "On beach volleyball: You touch every other ball and, if you screw up, you only have one more person to back you up. You can't go hide in the corner." Kerri Walsh.
See Also: Never Give Up Quotes To Help You Stay Strong
76. The backbone of success is usually found in old-fashioned, basic concepts like hard work, determination, perseverance and good planning." Mia Hamm.
77. "May your game be as tight as your spandex." Unknown.
78. "Somewhere behind the athlete you've become and the hours of practice and the coaches who have pushed you is a little girl who fell in love with the game and never looked back—play for her." Mia Haam.
79. "Your mommy called. She said you left your game at home." Unknown.
80. "Don't just beat them, make a lasting impression that makes them never want to see your face again." Mia Hamm.
More Volleyball Quotes
81. "I celebrate a victory when I start walking off the field. By the time I get to the locker room, I'm done." Tom Osborne.
82. "Whoever said, 'It's not whether you win or lose that counts,' probably lost." Martina Navratilova.
83. Volleyball is 90% Heart, 10% Skill, and 10% Passion. You ALWAYS give 110%!!!! No matter what." Unknown.
84. "Go hard or go home!" Uknown.
85. "I'll let the racket do the talking." John McEnroe.
86. "It is not the size of a man but the size of his heart that matters." Evander Holyfield.
87. "If volleyball was easy it would be called football." Uknown.
See also: Soul Mate Quotes For Him or Her That Get You Connected
88. "I'm tired of hearing about money, money, money, money, money. I just want to play the game, drink Pepsi, wear Reebok." Shaquille O'Neal.
89. "A mere forty years ago, beach volleyball was just beginning. No bureaucrat would have invented it, and that's what freedom is all about." Unknown.
90. "Give it your all on the sprawl, Drop a pancake and keep it clean, Find the target, put 'em on the hook then dish it up, flare and catch some air, Check the set, bring some heat and watch them ball." Unknown.
91. It's amazing how much can get accomplished if no one cares who gets the credit.
92. "Volleyball is one of the most interactive games going. It is a game of intuition, imagination, improvisation—but most of all, of reciprocity. Of teamwork. There is no way to freelance in volleyball." Marv Dunphy.
See Also:  Inspirational Get Well Soon Quotes
Best Inspirational Messages and Quotes
93. "Success is a journey, not a destination." Unknown.
94. "Volleyball is the sport through which I am able to express my God-given talents of being an athlete. It is a sport which involves relating, pushing, and encouraging your teammates. It has helped evolve me into the person I am today." David Beard.
95. "The only reason I go to school is to play Volleyball." Unknown.
96. "I got the nickname Spitfire for a reason. I burned inside to play volleyball. I loved the competition of it." Summer Altice.
97. "You can hit on us …but you can't score." Unknown.
98. "If you don't do whats best for your body, you're the one who comes up on the short end." Julius Erving.
99. "The only way to overcome is to hang in. Even I'm starting to believe that." Dan O'Brien.
100. "Physically I'm not as strong as I was, but I try to make up for it mentally. It's a big challenge, and I relish it, competing with guys half my age." Karch Kiraly.
Get your team up to par with the best there is, by subscribing to any of the above 100 Inspirational Volleyball Quotes To Motivate Your Teammates. You will be glad you did.