Get well soon messages are signs that we can empathize and sympathize with people around us. Sickness and accidents can strike at any moment in life. It is even worse when they happen to someone we know. It could be either a loved one, an acquaintance, or a work colleague. When this happens, it is expected that we send our best wishes and get well soon messages. There are different ways of going about this. You could pay a visit in person, give them a call, send a card with a message in it, or send a gift basket. Whichever way you choose, what is important is that we are concerned enough to send people that are down our good wishes and thoughts.
Why Recovery Get Well Wishes Are Important
Feeling sick is not fun. Being involved in an accident is not a nice thing either. The victim is probably going through a tough time, and whether they realize it or not, they need all the positivity and love they can get.
Saying 'get well soon' means you are conveying that the person is in your thoughts and you are hoping they recover from whatever ails them. Not only does that reflect your empathetic side but studies have also shown it has a positive impact on aiding recovery.
The hope is that you can comfort them amid a difficult moment. You also hope you can coax out a smile or generally make them feel better about their plight. Telling someone to get well soon means your message has to offer comfort, hope, and positivity. Ensure to infuse these elements into your message.
Be Positive When Messaging Someone Who Is Ill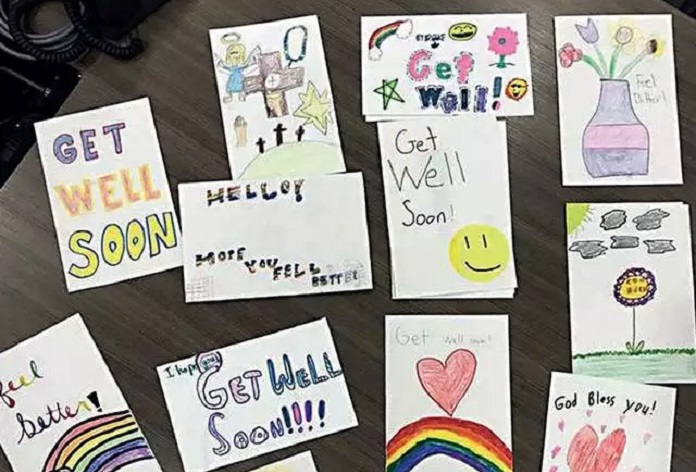 Illness can range from mild to serious ones. If you are sending a message to an ill person, you should note the level of sickness.
Get Well Soon Messages for Someone with Serious Illness
I was so sorry to hear about your diagnosis. Sending you much love and care as you begin your treatment
I don't have much to say. Just know I love you and you will get through this.
I have seen you smile a million times and I know I will see you smile a million times more.
You are one of the strongest people I know, and your strength will see you through this illness.
Please know you are always in my thoughts, and I am ready to help in any way I can.
Get Well Soon Messages for Someone with Terminal Illness
Sometimes, we know the illness is terminal, and we will probably lose the person. It is still essential to reach out with a message of positivity and love. Here are some examples:
You and I have created some fantastic and long-lasting moments over time. They will remain with me forever.
This message is to remind you how important you are to me and how important you will always be to me.
I genuinely hope you feel all the love surrounding you right now.
Woke up with you in my thoughts and prayers. Wishing you all the strength in the world right now.
You have been for a long time in my heart, thoughts, and prayers, and there you shall always remain.
The Type Of Get Well Soon Wishes You Send Depends On Who You're Sending Them To
Sickness is no respecter of status or age or individual. Anyone you know could have fallen victim to it, and you should be able to send distinct messages based on those involved. The message you send to a sick child should differ from what you send to an adult. The content of your message to a sick family member should vary from the one you are sending to a colleague or acquaintance.
Get Well Soon Messages for Family or Friends
Try to avoid offering serious advice on how to treat ailments or sicknesses. It is not necessarily what they need.
Hope the thought that we are lovingly thinking of you helps you right now
I love you. It is a shame that you are sick and I hate it.
I am extremely confident that you will recover really soon and be back on your feet.
Anything for attention, isn't it? Well you have mine now as long as this sickness lasts
I know you, and I know this is a challenge you will overcome. I am with you.
Get Well Soon Wishes for a Child
If you sent a get well gift along with your message, be sure to mention it in your message.
Use all those superpowers you have to feel better soon.
I am so sorry you are not having fun right now. Things will change pretty soon, big guy.
Being sick sucks. You are a rockstar. Get well soon, buddy.
I bet all your friends miss you at school. After all, your absence is hard to miss. I hope the teddy bear makes you feel better.
Please come back home from the hospital soon. Your toys miss you real bad.
Get Well Soon Messages Offering to Help Are Always Appreciated
I am always here for you. Anything you need, just reach out.
No matter what, no matter when, I remain at your beck and call.
Worry about feeling better and let me worry about helping you with every other thing.
You will overcome this sickness. Until then, let me worry about cleaning your house and mowing your lawn.
I'd love to help you around the house until you feel much better and can move about freely again.
General Get Well Soon Messages Should Always Be Polite
I look forward to seeing you back in practice. Get well soon.
Your absence is felt around here. Please feel better soon.
Think of this sickness as the universe telling you to read more. See you back at work soon.
Sending you the warmest wishes for a speedy recovery.
Whilst we hope that you recover soon enough, please take things slow and easy right now.
Other Ways to Comfort a Sick Person Without Sending a Message
Unfortunately, as emotionally and scientifically important as positive words are, not everyone is good with words. Some individuals are more comfortable with actions. These are alternative measures you can take in place of sending a get well soon message:
Visit them personally at their residence or the hospital. Your presence communicates to them that you are willing to take the time to visit.
Send a thoughtful gift. It does not have to be an expensive or huge one. Just a little, heartfelt gift that shows you are thinking of them.
Send flowers and get well soon balloons. A colorful room can do wonders for the spirit of a sick person. Sending them beautiful flowers and colorful balloons will comfort them greatly.
What to Remember When Writing a Get Well Soon Message
Be Empathetic: Understand that they are going through a very rough period right now and are probably sensitive. Try and put yourself in their shoes and express your heartfelt condolence. Use sensitive and warm language to convey your message, so it goes down positively with them.
Be Positive: Again, they are already in a rotten position. They do not want to read depressing messages that will further remind them of their plight. Send words of encouragement and positivity. Use words that hint at a happier conclusion and phrases that will cheer them up immensely.
Offer Your Support: Finally, make sure you offer your support. Asides from all the well-wishes and positive comments, sick folks also want reassurance that people will come through for them when they need help. Having that kind of reliable support helps them get through that period in a more tolerant manner. Volunteer your time, services, and probably your money as a form of support if you are sending a get well soon message.