Frida Kahlo quotes have become something of a daily dose of reality. You still don't know who she is? We're here to remedy that.
Frida Kahlo was a Mexican painter who was known for her self-portraits and her use of folk art style in her works. Her works explored very many subject matters including race, class, identity, gender and post colonialism. The beautiful artist was born to a 'Mestiza' mother and a German father.
When she was a child, she was left disabled as a result of Polio; and at 18, she was involved in a serious accident which forced her to abandon her university education and her journey to medical school. During her recovery, she turned to art and painting (which had been a hobby of hers) and developed it, becoming an icon for the era.
Frida Kahlo Quotes
1. "At the end of the day, we can endure much more than we think we can."
2. "I paint self-portraits because I am so often alone, because I am the person I know best."
3. "There is nothing more precious than laughter."
4. "Pain, pleasure and death are no more than a process for existence. The revolutionary struggle in this process is a doorway open to intelligence"
5. "My painting carries with it the message of pain."
6. "The most important thing for everyone in Gringolandia is to have ambition and become 'somebody,' and frankly, I don't have the least ambition to become anybody."
7. "No moon, sun, diamond, hands —
fingertip, dot, ray, gauze, sea.
pine green, pink glass, eye,
mine, eraser, mud, mother, I am coming."
8. "I paint flowers so they will not die."
9.  "I must fight with all my strength so that the little positive things that my health allows me to do might be pointed toward helping the revolution. The only real reason for living."
10. "I wish I could do whatever I liked behind the curtain of "madness". Then: I'd arrange flowers, all day long, I'd paint; pain, love and tenderness, I would laugh as much as I feel like at the stupidity of others, and they would all say: "Poor thing, she's crazy!" (Above all I would laugh at my own stupidity.) I would build my world which while I lived, would be in agreement with all the worlds. The day, or the hour, or the minute that I lived would be mine and everyone else's – my madness would not be an escape from "reality"."
11. "I think that little by little I'll be able to solve my problems and survive."
12. "You deserve the best, the very best, because you are one of the few people in this lousy world who are honest to themselves, and that is the only thing that really counts."
13. "I don't paint dreams or nightmares, I paint my own reality."
14. "Tragedy is the most ridiculous thing."
15. "I was born a bitch. I was born a painter."
Read Also: 120 Unique Italian Boy Names That Would Make You Jealous
16. "I drank to drown my sorrows, but the damned things learned how to swim."
17. "I hope the exit is joyful and I hope never to return."
18. "I am my own muse. I am the subject I know best the subject I want to better."
19. "Feet, what do I need them for. If I have wings to fly."
20. "Nothing is worth more than laughter. It is strength to laugh and to abandon oneself, to be light."
21. "The only thing I know is that I paint because I need to, and I paint whatever passes through my head without any other consideration."
22. "I leave you my portrait so that you will have my presence all the days and nights that I am away from you."
23. "I used to think I was the strangest person in the world but then I thought there are so many people in the world, there must be someone just like me who feels bizarre and flawed in the same ways I do. I would imagine her, and imagine that she must be out there thinking of me, too. Well, I hope that if you are out there and read this and know that, yes, it's true I'm here, and I'm just as strange as you."
24. "I am not sick. I am broken. But I am happy to be alive as long as I can paint."
25. "Nothing is absolute. Everything changes, everything moves, everything revolves, everything flies and goes away."
Frida Kahlo Love Quotes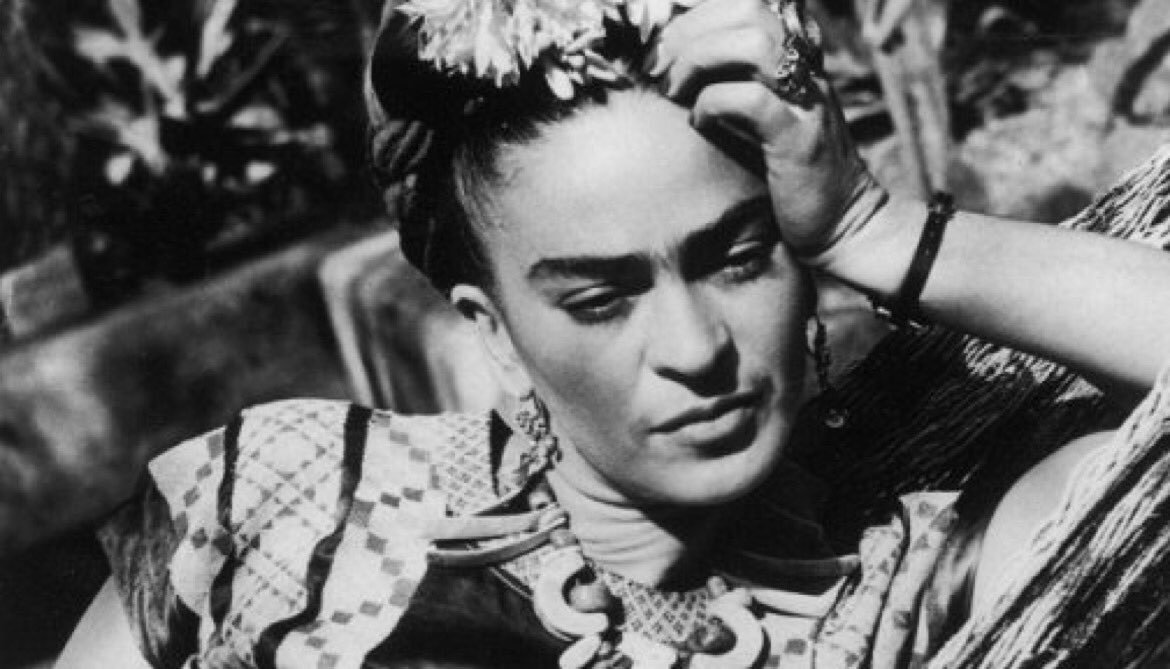 26. "I love you more than my own skin."
27. "I am that clumsy human, always loving, loving, loving. And loving. And never leaving."
28. "You didn't understand what I am. I am love. I am pleasure. I am essence. I am an idiot. I am alcoholic. I am tenacious. I am. I simply am."
29. "How can I call him my Diego? He never was and never will be mine, he only belongs to himself."
30. "I want to be inside your darkest everything"
31. "You deserve a lover who makes you feel safe, who can consume this world whole if he walks hand in hand with you; someone who believes "
32. "Take a lover who looks at you like maybe you are magic." – Marty McConnel (about Frida Kahlo)
33. "You deserve a lover who takes away the lies and brings you hope, coffee, and poetry."
34. "There have been two great accidents in my life. One was the train, and the other was Diego. Diego was by far the worst."
35. "You deserve a lover who wants to dance with you, who goes to paradise every time he looks into your eyes and never gets tired of studying your expressions."
See Equally More Enticing Quotes