Understandably, a funeral is very overwhelming; however, it is also necessary to appreciate those who lent significant support during such a particularly trying time. This is doable by sending flowers, bringing food, or just sending a thank you note. It may not be much, but sending thank you notes will go a long way in letting people know how much you appreciate them for making time to attend the funeral.
Writing a thank you note is also a good way to momentarily distract yourself from your grief and the best part is, it is easy to get started. You can buy thank you cards from funeral homes, gift shops, stationery stores or online printing services. The most important thing is, wherever you get them, your message of gratitude should reflect something sincere and personal.
What To Say In A Funeral Thank You Card: The Proper Etiquette for Funeral Thank You Notes
Before you start writing, there are social and artistic etiquettes to observe to ensure your notes are effective and acceptable. Do not worry, they are easy to implement ideas that will feel like second nature within three to five attempts.
Salutation: Dear [person's name]. If you have a close relationship with the recipient, you could open with: "My dearest [person's name]."
Expression of gratitude: Express gratitude on behalf of you and your family for his or her help or thoughtfulness. Brevity is encouraged, just be sure you are specific about the object of your gratitude, like flowers or food.
Personalization: The true act that separates a well-received thank you card to a discarded one is personalization. Whatever your motives might be, no one appreciates a generic card. Try and add a personal touch that reveals the intentionality of your action, such as acknowledging their relationship with the deceased.
Closing: You can infuse your personality or elements of your dynamic with the recipient into the closing. However, generally, a 'yours truly or 'love' is fine. Then sign your name or add the family name if you are sending it on their behalf i.e. "With Much Love, the Smith Family."
Now that you have all the background knowledge necessary in writing thank you notes, here are some ideas to get you started.
Thank You Notes After Funeral To Friends
One of the groups of people you are likely to send funeral thank you notes to are your friends. They are likely to be the ones by your side when you learned about the loss and the ones helping you through this funeral. Several of them may not care about a note of appreciation from you. However, it is still great to overtly appreciate them.
Here are some ideas to use when sending out funeral thank you notes to your friends.
There is not enough gratitude and appreciation for your prayers and support following the passing of [insert name]. It would have been a lot harder without friends like you and for that, we say thank you.
Your card was beautiful. Thank you for being there for me.
I truly appreciate your attendance at (name)'s funeral. It was so good of you to take the time to be with my family and I.
You are such a thoughtful friend. At the time when I needed it the most, you were there. I will always remember your kindness.
When in need, you were there to help and are indeed a great friend and neighbour. My family and I appreciate all that you did.
We feel lucky and blessed to have amazing friends like you in our lives as we navigate this period of loss. Thank you for being true.
Words are not enough to show our gratitude during this challenging time. All we can say is we are profoundly thankful for your friendship.
There comes a time in life that your friendship is your last lifeline. This was one of those times, and you showed up to the best of your ability. Thank you, my friend.
Your support and generous donation to (name) fund was a rare shining light in the darkness. Knowing your shared love for each other extends beyond death brought succour to our pain.
Your presence at the funeral was greatly appreciated. We were touched by your words and gesture. May your well of kindness never run dry.
The Best Funeral Thank You Wordings for Family Members
Among the group of people worth sending funeral thank you notes to are family members. They share the pain and are often more hands-on during the funeral process. Here are ten examples you can use or rework when writing your thank you notes.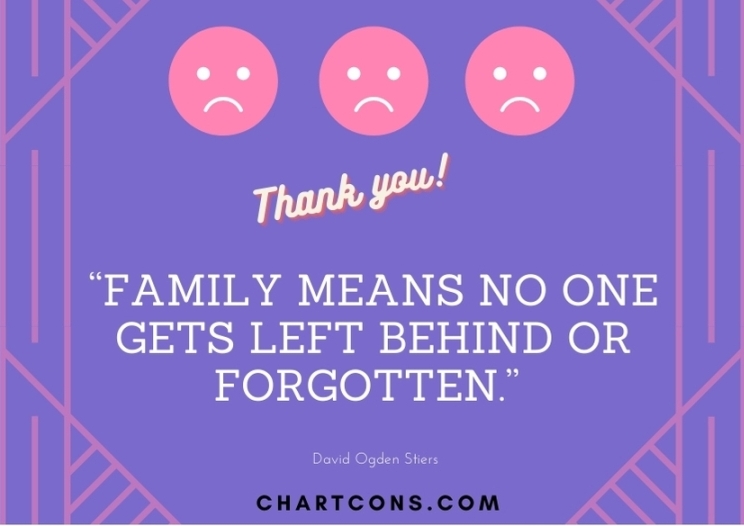 Our entire family is beholden to you for your magnanimity. The huge and beautiful flower arrangement you sent to the church for my (name's) funeral service was incredibly thoughtful. Thank you for being such a great support system for all of us.
It is a tough time for all of us and the passing of (name) saddens us. Your presence helped to lighten our burden. It was nice to enjoy your company and hear your lovely memories.
Many promise to always be there but few do. You were there when we needed you. Thank you for that. I love you.
Your acts of kindness and helping hands for our family during (name's) funeral service cannot go without acknowledgement. Knowing you handled these details brought much-needed respite to us.
Thank you for the wonderful flower arrangement after the loss of [name]. I know you are grieving too but know that he/she always thought of you not just as family, but one of his/her closest friends.
It is hard to put into words our appreciation for the thoughtfulness and sympathy you have expressed towards us during this difficult time. We say thank you from the deepest part of our hearts.
It meant so much to us having close members of our family present during the funeral of our late [name]. Your help with the buffet and pastries was a masterstroke in what it means to be family. Your kindness and sympathy during this difficult time are so much appreciated. With love…
Seeing you at my father's memorial service brought unquantifiable comfort to us. The love and support you've shown us during this very difficult time will always be remembered. Thank you for your sympathy and kindness.
Sharing your memory of mom with us was a bright spark in a day filled with tears and gloom. Your words were such a comfort. Family members like you have helped us get through this difficult time.
It was nice to see you at my mother's funeral. I was grateful to hear your memories, and your support made a difference to my family and me.
Funeral Thank You Notes For Money
Flowers are common, and so are donations. They could be made towards the funeral or the departed's favorite charity. Either way, appreciating the gesture is an essential social etiquette, and here are a few ideas you can use.
We are incredibly grateful for your generous donation to the American Heart Association in (deceased's) name. As you know, he suffered from (sickness) for years before his passing. I am certain he is smiling in deep appreciation from above.
Words cannot describe how thankful we are for your donation. The entire family much appreciates your thoughtfulness and generosity.
We are so appreciative of your generosity. Your donation in honour of [name] will go towards his grave marker and other funeral costs. Thank you so very much.
It was so kind of you to donate to the family in honour of (name). Allow us to express our gratitude by sending a donation to (name)'s favourite charity in your name. Thank you for your generosity and kindness.
Your donation in honour of (name)'s memory touched us deeply. It was a great act of thoughtfulness that I hope I someday get a chance to repay. May God bless you.
Supporting the cancer association means so much to our family, and it was [name's] wish that they were to be made instead of flowers. As you know, he/she always supported the charity, and it would have meant a lot to him/her to see that you and others made so many contributions.
We much appreciate your very generous donation in (name's) honour. Thank you so much for your kindness.
Our loss is not replaceable with money, but your donation has gone a long way in alleviating our burden. Thank you, and may God bless you.
Your donation helped me and my family make a funeral befitting of the beautiful life led by our mother. Please accept this note as my sincerest appreciation.
There is a family that will smile an extra day because of your donation in honour of my father. You are one in a million, and I simply cannot thank you enough for your kindness.
Thank You Notes After Funeral To Coworkers and Colleagues
It could be your colleagues or those of the departed, but there is a need to show appreciation to colleagues who attend a funeral. Here are some lovely examples you can use or combine for a heartfelt thank you note.
Thank you for your heartfelt condolence. Seeing you and the team in the audience gave me and my family a lot of strength in this difficult time.
I wish to express my sincere appreciation for your words of comfort during (name)'s memorial service. I am encouraged and blessed to know that he/she will be in the company of our Lord.
Thank you for your thoughtfulness. Your generosity and support during this challenging time are much appreciated. Thank you for your touching letter. I really enjoyed hearing from you.
For your attendance and the beautiful arrangement you sent, we say thank you. Our family really appreciates your support.
We want to thank you for speaking at (name)'s memorial service. Thank you for spending the time to share your beautiful memories with his friends and family.
He enjoyed working with you and being his friend meant a lot to him. He talked about you a lot. During this difficult time, your kindness has brought succour to our family. Thank you for being there.
I hope these words do enough to express how deeply grateful I am to you for stepping in and covering my work during this period. Knowing I can count on you has made it all easier. Thank you for your support.
He always spoke kindly and respectfully about his co-workers, and we are certain he would have appreciated the fact that you were all there for his family. Thank you for your presence and being our pillar of support.
Your kindness meant a great deal to us; you went above and beyond to bring a smile to us on a dark day. Truly, we are thankful. May God bless you.
You Should Write Thank You Notes When You're In A Better Place Emotionally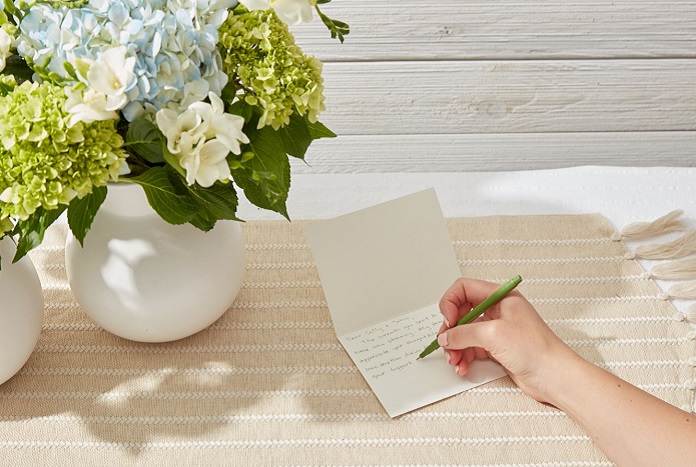 Ideally, you should write and send out thank you notes after a funeral within two or three weeks. It is because it gives you a chance to begin the process of moving on and timely recognition of the actions of well-wishers.
However, pain and its effects do not live on a schedule. Two or three weeks might be too early for you to go through what can be a tedious process. In that case, you can wait until you are in a better place because it is never too late to send your gratitude to others.
If it turns out it took a while, tack on phrases like 'I am sorry it took me so long…' or 'I apologize for the delay in sending this.' At the end of the day, whatever you send will be appreciated whenever you send it as long as it is heartfelt and genuine.
Pace Yourself When Writing Appreciation Thank You Message After Funeral
Losing a loved one is always devastating. For first-timers, that often means an unfamiliarity with social customs after a funeral, such as writing a thank you note. Understanding this, here are some tips to help you get started with crafting what you would like to say.
It is okay to write in batches: With many people sending in their condolences, sending personalized appreciation can be a huge task. A helpful trick is to break the list into batches. That way, you can write efficiently over a couple of days without sacrificing quality.
Your note should be short but meaningful: A thank you note is not where you tell stories. A simple sentence or three is all you need to express your gratitude. If you have trouble streamlining your words, you can buy pre-printed message notes and add a sentence to personalize it.
Don't be afraid to ask for help: There is no reason for you to write it all by yourself. Feel free to ask family members or close friends for help in writing the thank you notes. That way, you can get through the list quickly without minimal stress.
Your Signature can include other family members: One aspect of personalization is the signature. While you will typically add yours, signing it with 'the family of …' allows you to include the appreciation of other family members. However, if their gesture was solely for you, it is okay to sign just your name.