Inconsequential as it may seem, understanding why and how to write a get well soon card to those suffering from ill-health is an important social skill. Contrary to what many might think, the words of love and expressions of care you show have a significant effect on improving their health. Whoever the person might be to you, the most important thing is your words and the display of empathy in them.
Writing thoughtful get well wishes and adding inspiring get well soon quotes to your greeting card is an effective way to show someone you are thinking of them during a tough time. But as simple as they might seem, a get well soon card is an art in empathy, and there are a few things to consider to nail the perfect card.
How To Wish Someone to Get Better?
You do so by making gestures capable of improving their spirits and cheering them up. A popular way to do this is by sending get well soon cards. Flowers usually accompany them, but you can choose other options as long as they enjoy them, and it is safe for their health.
If you are going with the get well soon cards, an off the shelf card will not do because it is too impersonal. Writing or typing something from the heart is an excellent way to personalize a get well soon card. However, before you get to writing, there are a few things you should note about crafting out a great one.
Examples of Get Well Soon Card Ideas: What The Message Can Say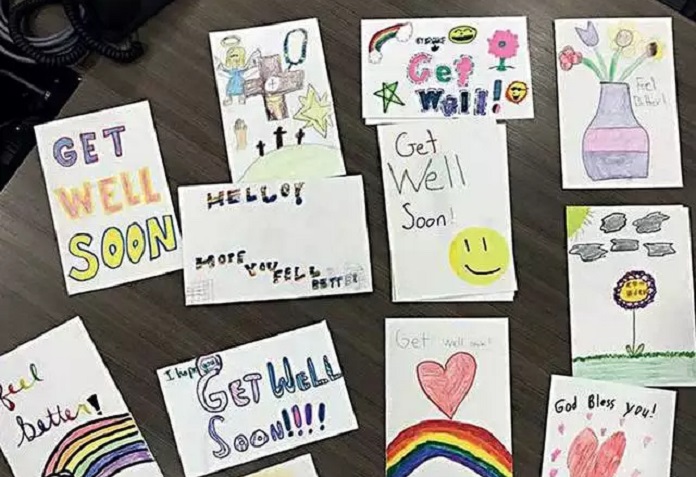 There is nothing better than practical examples to contextualize the ideas we have talked about earlier in the article. So, here are some examples to use in your next card.
Good Get Well Soon Card Ideas for Friends
"Pretty sure a text would have cost a lot less if you needed my attention. Lucky for you though, I am here all the same."
"Focus on getting better. There is a crew of elves out here helping you take care of everything else. Can't wait to have you back with us."
"Based on my experience, I know you hate being stuck in the hospital. If it helps, you can think of it as recharging your chakra."
"Wished there was a better way to express this, but I will take any opportunity to show you how much I care about you. Wishing you a speedy recovery."
"I hope the cheesy cards make you smile because only your recovery will put a smile on my face."
Get Well Soon Card Ideas for Family
"On the day you leave the hospital, and you will, I and the rest of the family will be there with bells on."
"The family group chat has not been the same without you. Hoping for your quick recovery."
"On your lowest of days and in your darkest nights, remember that you have a family earnestly hoping for your recovery."
"There is a big hug for you. It is redeemable when you inevitably get out of bed."
"Many problems have tried, but so far none have proven to be too big for prayer. We are fervently praying for your sickness to join the long list."
Get Well Soon Card Ideas for Colleagues and Bosses
"Our card comes with a tinge of selfishness. We miss having you around. Here is hoping you get well soon!"
"Worrying will do you no good this time. Focus on your full recovery and we will handle the rest."
"No one works with speed and efficiency as you do. Here is hoping your recovery takes a similar path."
"This card represents two gifts – my love and care, sent to aid your much-awaited recovery."
"Ever since I met you, you have been the embodiment of vitality and resilience. That is why I know you will beat this and be back to your best in no time."
What to Consider When Writing a Get Well Soon Card
Understanding the methodology of a get well soon card is key to delivering the message of care and concern behind the effort. These unspoken writing rules help ensure your card is appropriate, heartfelt, and boosts the recipient's spirit.
Be Personal
Even if you use a flower company to deliver your message, it is still important that your card reflects a personal touch. You can do something as simple as writing the receiver's name on the card or even a nickname (depending on your relationship with the person).
Strike an Empathetic Tone
Your get well soon card is not the time for you to express your reservations about the illness or its cause. If you are going to write a card, it must reflect that you care about their condition and wish them a quick recovery. However, you should note that the right tone for a friend or a close family member will differ from an acquaintance or coworker.
Use Encouraging Words
The goal of a good get well soon card is to uplift the reader. Words and sentences that achieve that should be part of your writing. It can be in the form of a prayer, joke, reassurance about their value, or your desire to visit them. Whatever you say, they should finish reading the message on the card feeling better mentally than they did before opening it.
Offer to Help
It does not matter whether you are close to the person or have a professional relationship. Regardless of who it is meant for, offering to help is an important part of your gesture. It elevates your card from a nice gesture to a genuine expression of care. Do not add it for the sake of it too. Be prepared to go all the way – should they ask your assistance for something.
End With Loving and Cordial Phrases
A good landing is as vital to a gymnast as the routine itself. You should end your card with loving phrases for intimate relationships and cordial ones for casual relationships. Phrases like 'Yours lovingly' and 'yours truly' are ideal for close recipients. 'Sincerely' is a good fit for professional or casual recipients.
What to Consider For a Good Get Well Soon Card
Now that you can write a good get well soon card, here are a few things you should consider to use effectively.
The Severity of the Illness
The style and tone you deploy in your card should reflect the severity of their illness. For example, a card that says 'get well soon' is not ideal for someone with a terminal illness. You will be better served writing a variation of 'Thinking of You.' The words on the card you send must align with the condition of the illness.
The Recipient
All get well soon cards need an empathetic tone, but variations should be based on the recipient. You cannot send the same message you will send to your best friend to your boss. Here are a few tips on the different categories of recipients.
Close friends – use sentences they will appreciate. Inside jokes are acceptable.
Close relatives – be overt and effusive in your concern. Write in a way you would to your sibling, child, or parent.
Distant relative – use familiar words and make offers to help with whatever they need.
Coworkers – express concern about their health and let them know they are missed.
Boss – be brief. No jokes. Offer kind words with a friendly greeting. Expressing the fact you are thinking of them in the message.
Religious Leaning
Verses from religious texts are one of the popular go-to messages inside some of the good get well soon cards. If you will go this route, make sure you use one relevant to their religious leaning. Try and avoid any cross-over that could upset them.
Age and Educational Background
A good get well soon card should be easy to read by the recipient. Sending a get well soon card to a child with words above their reading level defeats the card's purpose. To be safe, always keep it simple and straight to the point.
What Else Can You Say Instead of Get Well Soon?
'Get Well Soon' is a colloquialism that most people recognize and understand. But sometimes, especially when we are sending the card to a popular individual, we want something that stands out. Here are a few other ways you can express the same sentiment without using those exact words.
Wishing you a speedy recovery.
You need it, I got it. Whatever it is.
Take extra good care.
God bless you through your recovery.
Sending hugs and love.
Can't wait to see you smiling again.